<![if !vml]><![endif]><![if !vml]><![endif]>CAMELFORD
TOWN
COUNCIL
NCDC OFFICES,
COLLEGE ROAD, CAMELFORD
,
CORNWALL, PL32 9TL

TOWN CLERK: MARIAN SEDGWICK TEl: 01840 212880 E Mail:
townclerk@camelfordtown.net

FAX No: O1840 212880 VAT REG No: 711 9400 64
WEB PAGE:
http://www.camelfordtown.net

This Page Is Sanctioned By The Town Council
All Information Is Issued Officially By The Town Clerk Marian Sedgwick

CLICK BELOW FOR LINKS

AGENDA....MINUTES
INFORMATION & CONTACT NUMBERS
CAMELFORD PAGES

TOWN COUNCIL 2012 - 2013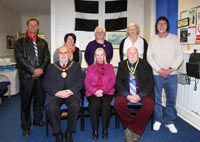 CAMELFORD TOWN COUNCIL 2012 - 2013
Photo taken in Camelford Hall Camelford on Thursday April 4th 2013
Councillors: Back Row: Alan Pollard, Bonnie Grills, Sue Elford, Judy Finch and Philip Lessels.
Front Row: Robert Rotchell (Town Mayor), Marian Sedgwick(Clerk) and Andy Shaw (Deputy Mayor).
Missing from Photoshoot: David Elliott, Lou Mason, John Pearce. Picture David Flower
---
COUNCIL MEETING – 19 MARCH 2013
Minutes: of the Meeting of the Council held at 19.15 hrs on Tuesday
19 March 2013 at the Camelford Hall Clease Road Camelford.
Minute Nos:
682/2012 Attendees Present
Councillors: R Rotchell (Chairman/Town Mayor) A Shaw (Vice Chair/Deputy Town Mayor) Mrs S Elford P Lessels J Pearce
Ms Tamsin Ismail
One members of the public
Marian Sedgwick (Town Clerk)
683/2012 Apologies
Apologies were received from:
Cllrs D Elliott Mrs B Grills Mrs J Finch L Mason A Pollard
684/2012 Declarations of Interest
RECEIVED the following Declarations of Interests from Members:
Cllr P Lessels – Minute No 689/2012 Planning Application Nos: PA12/12093 & PA13/00132
Cllr R Rotchell – Minute No 691/2012 Cheque number 104473
685/2012 Dispensations
None
686/2012 Public Participation (15 Minutes)
Tamsin Ismail addressed the Council:
Ms Ismail wished to bring to the attention of the Council the increased potential for sustainability and biodiversity of Enfield Park:
(i) Green Flag Status;
(ii) Community Involvement;
(iii) Vandalism could be mitigated by involving schoolchildren giving them ownership of areas that they had worked on;
(iv) Interpretation boards, wildlife cameras, hedgehog and bird boxes could be installed;
(v) Better advertising through local newspapers and on website would be advantageous;
The Chairman thanked Ms Ismail for her comments and suggested a strategic plan be devised to better manage diversity. Ms Ismail was invited to address the Council fully at the
Council meeting on Tuesday 16 April 2012.
687/2012 Council Meeting: Minutes 7 March 2013
RESOLVED that the Minutes of the Meeting of Camelford Town Council held on Thursday 7 March 2013 at 19.15 hours having been previously circulated, be taken as read, approved and signed.
Cllr A Shaw proposed /Cllr J Pearce seconded the motion
Cllr Mrs S Elford abstained
688/2012 Planning Applications for Consultation
RECEIVED the following Planning Applications and RESOLVED to respond to the Planning Authority as set out below:
Application: PA13/00738
Proposal: Reserved matters approval for decision PA11/08352 (construction of a pair of semi detached dwellings – garage/store to be demolished).
Location: Warrens Yard Trefrew Road Camelford
Applicant: Mr Simon Nightingale
Grid Ref: 210775/84017
No Objections. Observation that water runs towards existing dwellings
Cllr A Shaw proposed/Cllr Mrs S Elford seconded the motion
---------------------------------------
Application: PA13/01566
Proposal: Erect a PVCu conservatory to the rear of the property
Location: 98 Treclago View Camelford PL32 9AE
Applicant: Miss Maynard
Grid Ref: 210015/82916
No Objections.
Cllr A Shaw proposed/Cllr Mrs S Elford seconded the motion
---------------------------------------
689/2012 Cornwall Council: Planning Decision Notices - APPROVED
NOTED that the following Planning Applications had been APPROVED:
Application: PA12/12093
Proposal: Minor alterations to farm cottage and 2 storey extension to provide additional accommodation.
Location: Home Park Farm Helstone PL32 9RL
Applicant: Mr & Mrs Kevin Lloyd
------------------------------------------------
Application: PA13/00132
Proposal: Application for Consent to display advertisement signs namely siting of 2 internally illuminated static fascia signs; externally illuminated projecting sign; 3 internally illuminated
heritage window light strips; 1 non illuminated nameplate; 3 reverse applied vinyl's specials (featuring digitally printed graphics) and 1 non illuminated car parking signage.
Location: Lloyds Bank Plc 11 Fore Street Camelford PL32 9PG
Applicant: Lloyds Banking Group
-------------------------------------------------
690/2012 Cornwall Council – Planning Decisions – Discharge of Condition
NOTED that the following Planning Applications had Conditions discharged – S52/S106 and discharge of conditions apps:
Application: PA12/05619
Proposal: Submission of details to discharge conditions 3,6,7 and 8 in respect of decision notice PA10/05422 (attached)
Location: St Kitts Herbery Starapark Camelford PL32 9XH
Applicant: Mr Paul Johnson
------------------------------------------
Application: PA12/05620
Proposal: Submission of details to discharge Conditions 4,5, and 6 in respect of decision notice PA10/05152 (attached)
Location: St Kitts Herbery Starapark Camelford PL32 9XH
------------------------------------------
691/2012 Finance Report: 8-19 March 2013
RESOLVED to adopt the Finance Report 8-19 March 2013, including income and expenditure, the budget v actual income and expenditure to date and RESOLVED to authorise the payments of
Accounts Outstanding (See Appendix A) Cllr A Shaw proposed/Cllr Mrs S Elford Cllr RR abstained
692/2012 Devon & Cornwall Police: Crime Figures
No crime figures available.
AGREED to accept the offer from the Neighbourhood Beat Manager and invite him to the Council meeting on 16 April 2013 advising that there would also be a presentation from
The Devon & Cornwall Police and Crime Commissioner's Office.
Correspondence
693/2012 Camelford Cancer Research: Request for use of Enfield Park
RECEIVED a request from Camelford Cancer Research for permission to place a fundraising stall at the entrance to Enfield Park on Saturdays 3 & 17 August 2013 and RESOLVED to grant permission.
694/2012 Camelford Youth Club: Request for Council Representative
RECEIVED a request from Camelford Youth Club (CYC) for a Council Representative to attend CYC meetings. RESOLVED to wait until the next Council has been elected before appointing a representative.
712/2012 Newsletters and Circulars Received: Available From The Council Office:
NOTED that the following journals were available from the Council Office:
1 Cornwall Local Plan – Strategic Policies Development Plan Document – Pre-Submission Document.
2 Gypsy and Travelling Communities Strategy and Delivery Plan
3 Community Infrastructure Levy – Preliminary Draft Charging Schedule
4 CALC JOURNAL – 'The Week' Issue 4
713/2012 Notification of Meeting/Items For Agenda – 4 April 2013
NOTED the following items to be placed on the agenda for 4 April 2013 Council meeting:
1. CCTV
2. Neighbourhood Plan (to carry forward each month).
3. Public Conveniences
714/2012 Public Bodies (Admission to Meetings) Act 1960
RESOLVED that in view of the special or confidential nature of the business about to be transacted it was advisable that the press and public be excluded and they were instructed to withdraw
during the discussion for the following items:
1. Contracts
2. Volunteer Work
715/2012 Tenders for Grass Cutting Enfield Park and Town Council Sites: RECEIVED the tenders for grass cutting at Enfield Park and other Council sites:
Contractor 1: £4325
Contractor 2: £3248
Contractor 3: Failed to tender
RESOLVED to award the contract to Contractor 2.
Cllr Shaw proposed the motion/Cllr P Lessels seconded the motion
Cllr RR abstained by virtue that he knew one of the contractors
NOTED only one quotation received.
RESOLVED to defer this item in order to obtain two more quotations
---
---
CAMELFORD PAGES
Town Tour
Town Council
Carnival 2003...2004...2005...2006...2007...2008
Show 2003...2004...2005...2006...2008
Christmas Lights 2002...2003...2004...2005...2006...2007...2008
Bypass
---
---
---

Copyright© David Flower 2002-2013
Disclaimer: No part of this website may be reproduced, stored on a retrieval system, or transmitted in any form or by any means, electronic, mechanical, photocopying, recording, or otherwise, without the written consent of tintagelweb.co.uk (David Flower). You may however, download on to a personal computer owned or controlled by yourself and you may make a single copy of any part of this publication, for your private use or study.
tintagelweb.co.uk are not liable for any direct, indirect or consequential loss arising from the use of information or material contained in the site or from your access to the web sites of customers or other material on the internet obtained via links from this site.