<![if !vml]><![endif]><![if !vml]><![endif]>
CAMELFORD


TOWN
COUNCIL
NCDC OFFICES,
COLLEGE ROAD, CAMELFORD
,
CORNWALL, PL32 9TL

TOWN CLERK: MARIAN SEDGWICK TEl: 01840 212880 E Mail:
clerk@camelford-tc.gov.uk

FAX No: O1840 212880 VAT REG No: 711 9400 64
WEB PAGE:
www.camelford-tc.gov.uk
CLICK BELOW FOR LINKS

INFORMATION & CONTACT NUMBERS
CAMELFORD PAGES


TOWN COUNCIL 2012 - 2013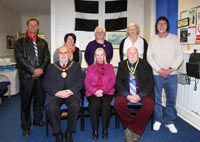 CAMELFORD TOWN COUNCIL 2012 - 2013
Photo taken in Camelford Hall Camelford on Thursday April 4th 2013
Councillors: Back Row: Alan Pollard, Bonnie Grills, Sue Elford, Judy Finch and Philip Lessels.
Front Row: Robert Rotchell (Town Mayor), Marian Sedgwick(Clerk) and Andy Shaw (Deputy Mayor).
Missing from Photoshoot: David Elliott, Lou Mason, John Pearce. Picture David Flower
---
Regrettably the Draft Minutes of Camelford Town Council will no longer be allowed
on the Tintagel website after many years of giving the service to people all over the world.
They now have their own Camelford Town Council Website
David Flower
This page will be removed from the Tintagel website at the end of July 2013
---
---
CAMELFORD PAGES
Town Tour
Carnival 2003...2004...2005...2006...2007...2008
Show 2003...2004...2005...2006...2008
Christmas Lights 2002...2003...2004...2005...2006...2007...2008
Bypass
---
---
---

Copyright© David Flower 2002-2013
Disclaimer: No part of this website may be reproduced, stored on a retrieval system, or transmitted in any form or by any means, electronic, mechanical, photocopying, recording, or otherwise, without the written consent of tintagelweb.co.uk (David Flower). You may however, download on to a personal computer owned or controlled by yourself and you may make a single copy of any part of this publication, for your private use or study.
tintagelweb.co.uk are not liable for any direct, indirect or consequential loss arising from the use of information or material contained in the site or from your access to the web sites of customers or other material on the internet obtained via links from this site.