Story Of Denzil Flew -- The Show Is Over
Article written in 2,000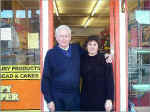 Denzil Flew retired from business on the 30
th
September 2000, after 51 years of trading.
In 1942 he was apprenticed to Peter Prior in Camelford as a hairdresser, where he learnt his skills. Denzil opened his own Hairdressing Salon in Tintagel in 1949 after leaving the forces and in the following year he opened a ladies section. In those early years a haircut would cost 9d, haircut and shampoo 1/6d and a ladies perm £1.1.0d
Denzil married Elaine Dangar in September 1962 and they have three children, Martyn 37, Debbie 34 and David 30 and seven grandchildren, five boys, Callum, Charley, Conner, Joshua and Kyle, and two girls, Shawni and Sophie.
Elaine said she had done various jobs in the ladies section for many years but felt that 'receptionist' was her best title!. Whilst I
was chatting with them they introduced me to Kay Welsh, who was a stylist with the firm 30 years ago. Their daughter Debbie decided that she would like to become a hairstylist and trained at St Austell Hairdressing College as well as learning the trade in the Hair Salon.. She took over the Ladies section in the mid 80s and ran it for five years until she left to get married. Denzil & Elaine decided that they would change the salon to a Fruit & Vegetable/Café & Hairdressing business in 1990. In 1991 they finished with the Café and Hairdressers and became the Cornish Fruit & Veg Supplies. They also introduced grocery supplies at this time in the shop.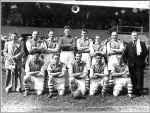 During this time in the shop Denzil became very involved with the Tintagel Football Club. He was team secretary for a few years and told me one of his proudest moments was in 1951 when Tintagel beat Camelford by 4 goals to 1 in the Cornwall Senior Cup Runners Up Final at Poltair, St Austell. There was a crowd of over 12,000 at the game including a very large contingent from Tintagel. During the years when Tintagel AFC had marvellous support every week, the touchlines would be filled all round the ground at least three deep. It would not be unusual in the 50s to take £200 on the gate and the admission charge was only 6d!.He remained involved with the football club for many years and his sons Martyn & David have both played for Tintagel.
During the war years Denzil was part of the New Premier Dance Band which consisted of Audrey Neal (Accordion), Audrey Hicks (Piano), Peter Prior (Trumpet), Frankie Seccombe (2
nd
Trumpet), & war commitments allowing, Billy Hawkey (Sax). Denzil played Accordion & Piano). They entertained in the Aircraft Hangers at Davidstow Aerodrome for the airmen there and in various village halls. The Atlanta Hotel was a popular wartime venue with dances held every Tuesday & Friday. When he was called up to serve in the forces from 1946 to 1949 the band disbanded.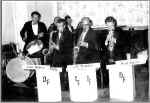 However a new band was formed on his return called Denny Flew and the New Premier Dance Band. This band consisted of Gussie Males (Tenor Sax & Trombone), Billy Hawkey (Sax & Clarinet), Fred Angove (Trumpet) and Derek (Toby) Flew (Drums), Denzil's brother. Later they were joined by Les Hewitt (Bass, Tenor Sax, Trombone & Trumpet). At one time the band could consist of up to ten musicians and they were the Resident Band at the Headland Pavilion in Bude for a few years. They were popular all round Cornwall and played at Newquay, Truro and even performed in Plymouth. Dance music was all the rage until the Rock Years arrived in the 60s and by the end of that era the dance band was not the attraction it used to be. The band finished but Les Hewett, Derek Flew & Denzil played as a trio for a number of years. Later Denzil played on his own at various pubs and functions and continued till the end of the 80s. He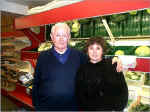 says that Stuart Biddick and himself are considering getting together and playing popular dance band music for the elderly.

Whilst Denzil & Elaine have now retired the business is continuing in other hands.

I asked Denzil if he would do it all again and he said he would. He had thoroughly enjoyed his business and social years and has many happy memories.

We wish them both a long & happy retirement

PHOTOGRAPHS

1. Top Left Photograph: Denzil & Elaine. September 30th 2000.

2.Denzil Flew, Ladies & Gents Hairdresser Shop In The 1950s. Next door On The Left Can Be Seen W.H.Flower & Sons, Grocery Shop. The Tintagel AFC Team sheet Is In The Notice Board On The Right Hand Pillar Of Flower's Shop.

3. St Austell Final Photo 1951 shows Front L to R: John Fry, Leonard (Ginger) Parsons, Tony Fry, Ken Cann and Bill Tremain. Back L to R: Alan Menhennick ( Linesman), Harvey Knight, Jack Allen Rodney Nute, Ernie Tremain, Ted Haddow, Harold Donnithorne and Jim Goff (First Aid Man)

4.The band photograph was taken at the Grenville Hotel in Bude and shows Front: L to R: Les Hewett, Billy Hawkey and Fred Angove. At the back: Denny Flew, 'Pop' Herbert, owner of the Grenville and John Pett on piano.

5. Photographs of Denzil & Elaine taken on September 29

th

2000 inside the shop

Copyright© David Flower 2000-2017



Disclaimer: No part of this website may be reproduced, stored on a retrieval system, or transmitted in any form or by any means, electronic, mechanical, photocopying, recording, or otherwise, without the written consent of tintagelweb.co.uk (David Flower). You may however, download on to a personal computer owned or controlled by yourself and you may make a single copy of any part of this publication, for your private use or study.
tintagelweb.co.uk are not liable for any direct, indirect or consequential loss arising from the use of information or material contained in the site or from your access to the web sites of customers or other material on the internet obtained via links from this site.